The Hazards of Spray Paint Fumes: Spotlight on Safety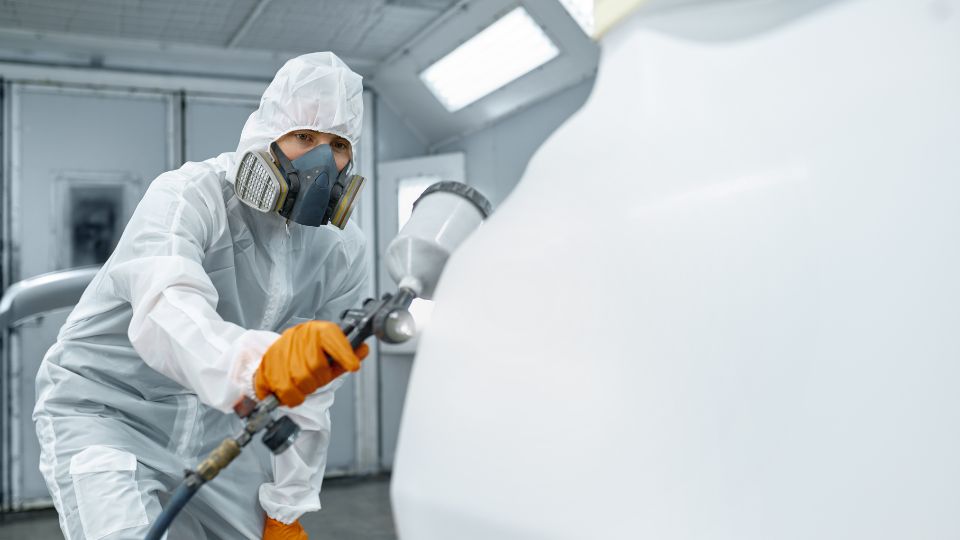 Aerosol paint, spray paint, or graffiti paint is a type of paint that comes in a pressurized canister. It is used to quickly and easily cover large surfaces with a thin layer of paint. While this convenience makes it popular for home improvement projects and street art, the fumes from aerosol paints can be dangerous if inhaled.
VOCs or volatile organic compounds are released into the air when the spray paint is used. These chemicals can cause various health problems, including headaches, dizziness, nausea, and cancer.
Read more: What Are VOCs & Where Do They Come From? The Facts You Need.
If you are using spray paint, it is essential to protect yourself from harmful fumes. Here are some tips:
1. Wear a Respirator
A respirator can protect your lungs from harmful fumes. It is essential to select the correct respirator for the type of paint you are using.
Spray paint ingredients include:
toluene
xylene
ethylbenzene
These chemicals can have short- and long-term health effects, so choosing a respirator that will filter out these harmful fumes is crucial.
OSHA has approved the following respirators for protection against toluene, xylene, and ethylbenzene:
Full-face air-purifying respirator with an organic vapor cartridge and a P100 filter
Half-face air-purifying respirator with an organic vapor cartridge and a P100 filter
You can also use a powered air-purifying respirator (PAPR) with an organic vapor cartridge and a HEPA filter.
2. Ventilate the Area
Ventilation is critical when spraying paint; you should always work in a well-ventilated area. Open windows and doors for cross ventilation, which will help to dissipate the fumes more quickly. You can also use a fan to help circulate the air and ventilate the space.
3. Use a Spray Booth
A spray booth is an enclosure where painting or spraying is done and is exhausted to the outside. It provides a controlled environment and protects the painter from paint fumes.
A good quality spray booth also recovers most of the paint overspray, thus reducing waste. Many jurisdictions have regulations that require the use of a spray booth for safety reasons.
For example, in the United States, the Occupational Safety and Health Administration (OSHA) has regulations that require the use of a spray booth if painting operations create a health hazard.
The Canadian Centre for Occupational Health and Safety (CCOHS) recommends using a spray booth to protect workers from exposure to paint fumes.
4. Use a Low-VOC Paint
VOC is the "Volatile Organic Compound" in paint. It's what makes the paint smell, and it's also what is bad for your health. The lower the VOC, the better it is for you. You can find low-VOC paints at most hardware stores now.
5. Read the Warning Labels and Precautionary Statements
Before spraying paint, you must read the warning labels and precautionary statements. These will provide you with important information about the dangers of using the product and how to stay safe while doing so. By taking a few minutes to read these labels, you can help protect yourself and others from the harmful effects of spray paint fumes.
If you have more questions about the safety of using spray paint, be sure to ask a qualified professional before proceeding. Only use products designed for the specific job you are working on, and always follow the manufacturer's instructions.
For the best VOC air cleaner, call IP Systems. Our company provides Fume extractors and other industrial air purification systems.