IP SYSTEMS - THE LEADERS IN PROVIDING SUPERIOR QUALITY FUME EXTRACTORS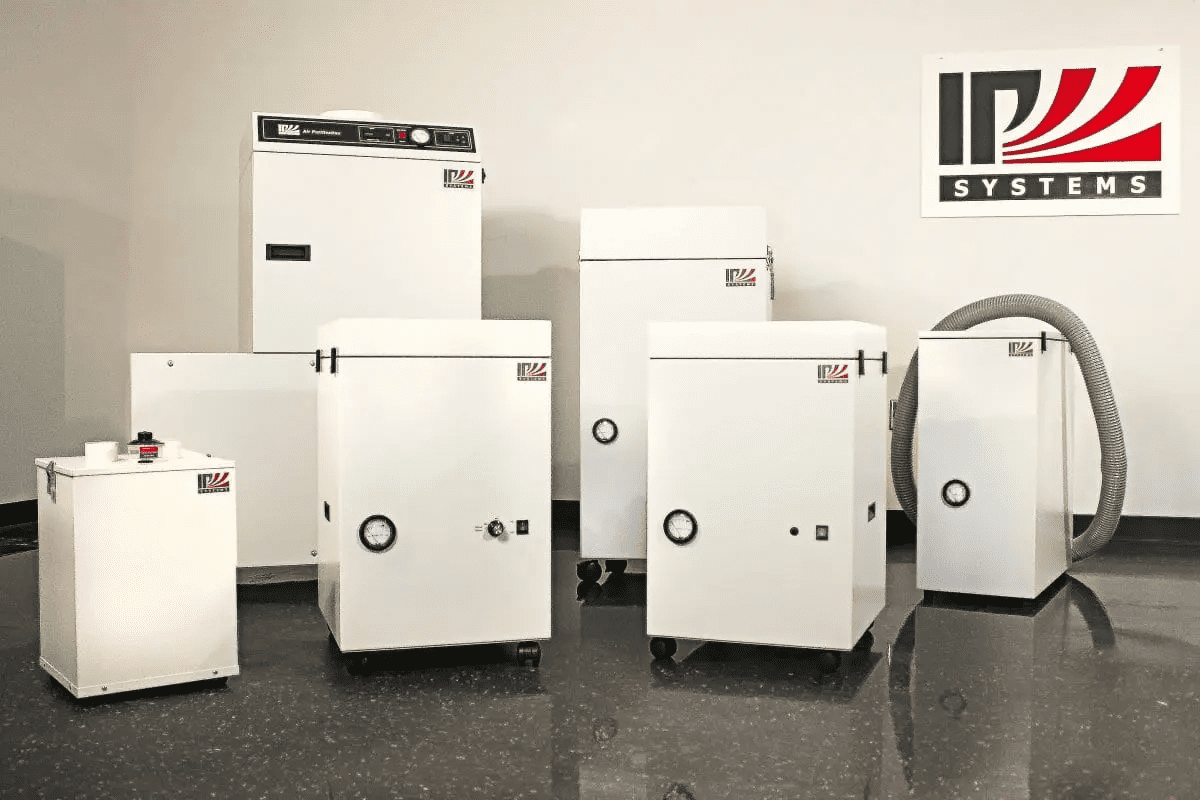 What Makes Our Fume Extraction Systems Superior?
We engineer fume extraction systems specifically for the needs of our client's applications that produce potentially hazardous particulates, fumes and/or gases. Our belief is that worker safety is paramount, and we are here to assist with you your fume extraction requirements.
Our fume extraction systems feature:
Airflow volume from 150 to 2000+ CFM.
HEPA Filtration 99.97% efficiency
Large filter area for longer filter life.
Optimized static pressure provides effective capture of fumes and extends filter life.
Flexible Filter sets for removing fumes, odors, & VOC's – configured to fit your application.
Leaders in Fume Extraction and Filtration Systems
Looking for a fume extractor system for laser marking, cutting or soldering processes? Need a solution to extract, absorb, and collect smoke generated by your workstations? Look no further: IP Systems USA is here to help. Established in 1992, we have decades of expertise to help bring you the perfect air filtration and fume extraction system for your workplace.
We recognize that the last thing you want is for your fume extraction product to create down time on mission critical, revenue producing equipment. This is why we proudly offer our German engineered, American made units with a simple robust design that insures superior quality and hassle free operation.
We offer a fume extraction and filtration systems for a variety of applications. Whether it be laser marking, engraving or cutting, soldering applications from hand soldering to selective solder and reflow ovens to aerosols in dental applications or even odor removal from adhesives and VOC's, you will need a superior air filtration system to keep your workers safe. IP Systems USA provides top-of-the-line filtration and fume extraction units that meet OSHA regulations, without slowing your business down.
IP Systems USA is proud to say that we've installed thousands of fume extraction and filtration systems, with satisfaction guaranteed. Click here to see our product lines & how they can help improve your workplace's air quality! 
Fume Extraction Applications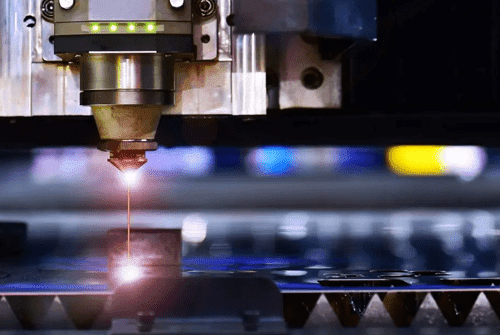 Lasers marking and etching can give off hazardous fumes and particulates. It is essential to remove them from their air before they enter the lungs of the operator. Our laser fume extractors come in multiple configurations.
SMT fume absorbers pull flux fumes generated during the soldering process out of the air and return clean air to the facility. These extraction systems are an alternative to venting to the outside.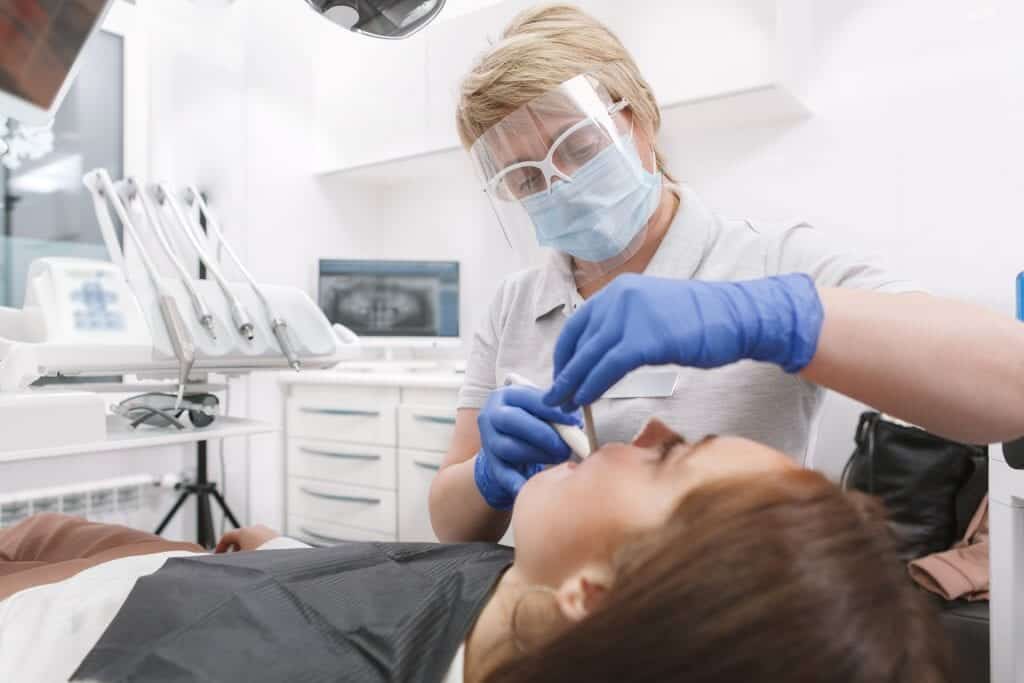 The compressed air and water used in dental tools creates an aerosol that can contain viruses such as Covid 19 or SARS. Our dental aerosol fume extractor systems pull these aerosols away from doctors, technicians, and patients.
Gas Absorption & Industrial Odor Control Systems
Many processes give off hazardous gases and unpleasant odors. Our customizable systems can adsorb many of these gases through the use of activated carbon and other media…
Benefits of Using Fume Extraction Systems
Your employees spend 40 hours a week or more at your place of business. This means much of the air they breathe could be polluted by industrial processes. A safe and healthy environment is essential, and fume extraction systems are central to this.Of course, not all systems are equal. You need not only the best of the best, but the right type of system for your business. At IP Systems USA, we ensure that all companies get the systems best suited to their work and space.
This allows you to enjoy the essential benefits of these fume extractors, including:
A Healthy Environment: When hazardous fumes and particles are eliminated, the entire workplace is healthier.
Fewer Absent Employees: When you support the health of your workforce, they are less likely to take sick days.
More Productive Workers: When people can breathe well, they work better, getting more done in less time.
OSHA Compliance: Many businesses are required by law to have fume extraction systems in place.
Reduced Risk of Lawsuits: When people are injured at work, they can file workman's compensation suits, even if the injury builds up over time.
Given these benefits, supplying in a fume extraction system is an investment in your business. While it might not be so easy to calculate the return on investment, it is clear that there is one. To learn more about your options or to receive a customized product, contact us today.
FAQs About Fume Extraction & Filtration Systems
Why should I use a fume extractor instead of an ambient (overhead)?
Although ambient air cleaners can help remove some fumes and keep air clean, they should not be relied upon as a fume extraction method when equipment generates a concentrated amount of fumes. Capturing at the source of the fumes is a much more efficient means of protecting employees. Ambient air cleaners simply sit overhead while the worker's activities produce the fumes, causing the worker to be exposed before the fumes can be evacuated.
How do I know which filters to use in my extractor?
Each extractor that we provide offers flexible filter configurations to address your specific needs. There are different configurations for high particulate applications, to applications that produce high volumes of odors, gases and VOC's to a blend of the two.


If you have any questions about which filters to use in which extractor, we will be happy to help. Simply call us or send us an email with a question and we'll help you out.
How often do the filters need changing?
This depends on the amount of contamination going into the filters and frequency of use so each application will vary. The Filters are designed to provide as much surface area of the media to insure the longest life possible and each unit has a real time filter monitoring gauge.

 

If you wish to discuss your specifics, then we can provide a more accurate estimate of filter life as it applies to your set of circumstances.
How do I dispose of used filters?
The filter themselves are nonhazardous, so disposal of used filters depends on what type of fumes you are capturing. For example if you are capturing flux fumes from solder, the disposal of the filters would follow the same procedures you use for disposal of the flux chemicals.


The same would apply for virus', gases, etc….


We recommend following your local Department of Natural Resources for more information on hazardous material disposal.
How do I know which extractor to choose?
Your choice of extractor will depend on several factors. What activities are you doing that require fume extraction, what kind of fumes are being produced, are you capturing fumes at the source of the application or from the back of a cabinet or hood. Are particulates heavier than are or lighter than air and what issues are you currently facing with air quality?
Our sales team is available during business hours to help assist you with your fume extraction needs. Call us or send us an email telling us about your workspace, your activities, and what you need our fume extractor to do for you. We'll give you our recommendation based on our decades of experience engineering and installing fume extraction systems.